Chervò players Kurt Kitayama and Johannes Veerman cook amatriciana together
Back in September, the week of the Italian Open at the beautiful Marco Simone Golf & Country Club - home to the 2023 Ryder Cup - Chervò players Kurt Kitayama, PGA & DP World Tour Member and Johannes Veerman, DP World Tour Member, put down their clubs and picked up their chef hats in Rome, assisted by renowned Chef Andrea Palmieri.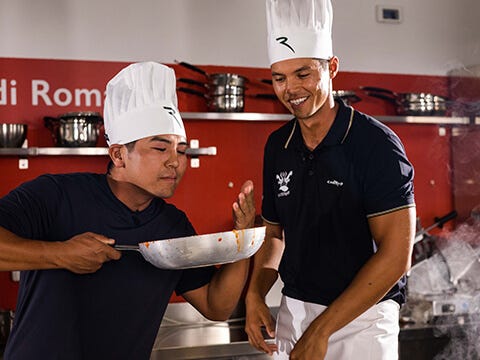 No doubt these two worldly gentlemen are crowd-pleasers, both on and off the course. Flying around the world, juggling a rigorous tour schedule, the two players often choose to spend their travelling time together, so this shared kitchen space is nothing new to them. Long-time friends and professional peers, the funny banter between the two showcases solid comradery and evidence of true friendship, as well as mutual respect for each other's talent, love for good food…and great clothes.
So, what was on the menu? Amatriciana, of course! Otherwise known as an amazing pasta sauce, based on guanciale, pecorino cheese, tomato sauce and chili pepper.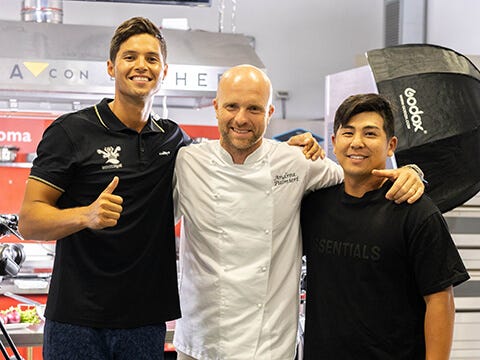 Both born in California, their love of the game is how they met and grew a friendship. Currently, Kurt lives the "chill" bachelor life in Las Vegas, while this year Johannes took on the new role as "daddy" and lives in Texas with his wife Angela and their 9 month old son Hans. When these two get together, it's nothing but light-hearted laughs, masculine humour and a side of silly jokes.
Never turning down the opportunity to learn how the other improves his golf swing, the players were equally curious when it came to the expertise and authenticity of Chef Andrea Palmieri. Sharing his secret ingredients, the Chef elevated the players' cooking game from molto buono to mamma mia!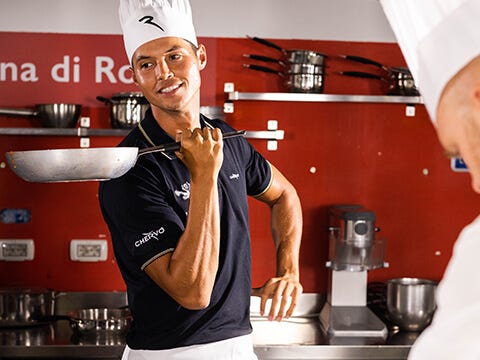 About the Chef
Chef Andrea Palmieri is the owner of @buca_vino along with his wife, Francesca Romana Palmieri.
Known for his television appearances, Andrea Palmieri is a chef who loves his cuisine and his restaurant more than anything else. Many praise his artistic blend between Rome and the Far East, a journey of harmony and flavours that perfectly combine culinary traditions that might be geographically distant, yet so very close in his dishes.
AMATRICIANA RECIPE: SERVES 4 PEOPLE
500 g pasta
125 g Amatrice guanciale (i.e. cheek lard)
one tablespoon extra-virgin olive oil
a dash of dry white winez
400 g peeled tomatoes
a small piece of chili pepper
100 g grated Amatrice pecorino cheese, salt

Put the oil, chili pepper and guanciale cut into small pieces in a pan. Sauté over high heat. Add the wine. Remove the chunks of guanciale from the pan, drain well and keep them aside as warm as possible. Add the tomatoes, then season with salt, stir, and give it a few minutes of heat. Remove the chili, put the pieces of guanciale back in, stir the sauce again. Meanwhile, boil the pasta, better al dente, in plenty of salted water. Drain well and place in a bowl adding the grated pecorino cheese. Wait a few seconds and then pour in the sauce. Blend in and add some more pecorino cheese.
Buon appetito!