WHEN IN ROME: Smart athleisure meets the eternal city
The never-fading sense of comfort, high performance, and laid-back elegance Chervò inherited from its legacy find their centre-stage role in this new collection of Spring-Summer 2023.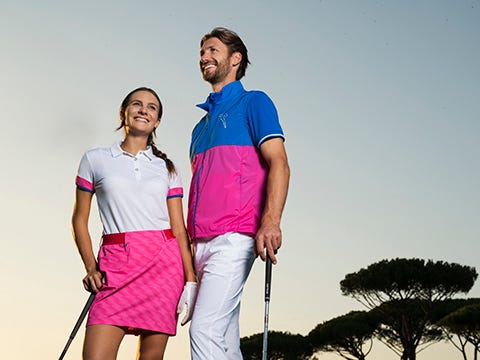 In light of a thrilling milestone –the Ryder Cup in Rome - our creativity turned to our past and heritage for inspiration. The eternal city thus become the perfect scenery for a collection that draws inspiration from the glorious time of the Roman rule, when gladiators shared the fame of emperors and all symbols had to represent their unlimited power.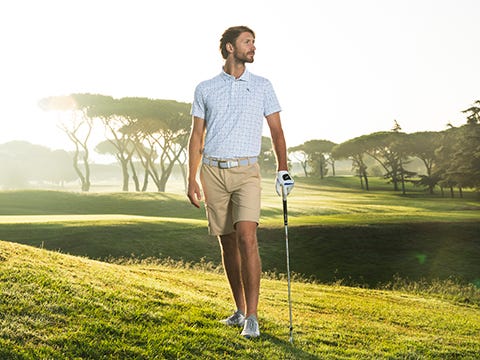 The very same sense of timeless elegance can be found in the nostalgic splendour of a more recent image of Rome, where its glamour and class set the trends for what was really à la page. The 2023 Ryder Cup at Rome's Marco Simone Golf & Country Club will be the epitome of such centrality, as the city will become the heart of worldwide golf: Chervò is proud to be the official licensee of the Ryder Cup, and to present a dedicated collection that celebrates the event's significance.
GLADIATORS
The gladiators and their eternal fame were the primary inspiration for the prints on the Men's collection of polo shirts: tigers and Roman shields are featured all-over on these statement pieces, with a strong connection to the performance-driven textiles the designers for the whole collection.


SIGNATURE R
To celebrate Rome's grandeur, as well as our own story, Chervò reinterpreted its signature R and made it the protagonist motif of some pieces in both the Men's and Women's collections: meanders - or Greek keys - are therefore borrowed from the past to symbolise the perfect blend of ancient legacy and present imagery.


ELEGANZA ROMANA
Though it is difficult to identify the peak of Roman style throughout the centuries, some landmarks are unquestionable: Via Condotti has always been the cradle of Roman finesse. The understated colours of this theme bring a laid-back sense of sophistication to the collection, and reflect the taste of those who wish to tackle the golf course with a more relaxed sportiveness.
The Chervò archives proved to be the driving force behind this collection's patterns and colours, as many pieces look back to the boldness of red, fuchsia and bright blue, in both the Men's and Ladies' collections. A line of garments that were designed to brighten up the golf course, for all those players who dress to impress, preferring s colour scheme that isn't afraid to dare.