The child prodigy of Italian golf
The child prodigy of Italian golf who has thrilled the entire world in just a few years with his fresh face, the good manners and cool headedness of a great champion and the unaffectedness of a seasoned player, and who has broken every record by winning four major tournaments on the European Tour, is none other than Matteo Manassero. An upbeat and genuine guy who recently has had to come to terms with himself because, let's face it, when an athlete is born "predestined", the situation isn't too easy to handle. Matteo was collecting wins from the start. He won everything. The world was at his feet. So it's understandable then that every slight fall could become an abyss if handled badly. Yet this is not the case for this young man from Verona who, with great humility, has gotten back down to business, rebuilding, and we are sure he will return better than ever.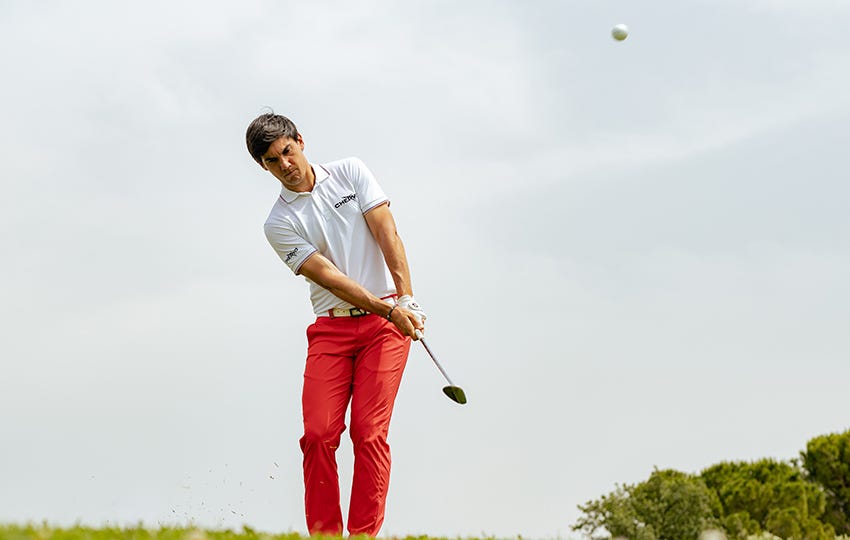 Let's start from the beginning and the 2010 Masters as an amateur: tell us what happened
It was like a daydream. I was ready to take on the tournament of the year, the same one I'd always watched on television, from the entrance along Magnolia Lane to the tee of hole 1. Everything was exactly as I had always imagined it. Perhaps I never really understood the magnitude of what I was taking on and I think that this was key to me enjoying the experience of the Masters to the fullest. Being there with the best in the world was a truly unforgettable moment. I managed to stay focused: my emotions could have easily gotten the best of me, but my game and performance lived up to the Augusta National.
Then I made the choice to go pro immediately at just 17 years old. What was it like to take the "plunge", going from amateur to pro?
It was a natural and inevitable choice for me: I felt ready and I proved it in the years to come. The people around me had doubts, and rightly so, from my parents to my former coach. For me, on the other hand, turning professional was the only way to go. All I could think about was the European Tour card and competing against the best of the best.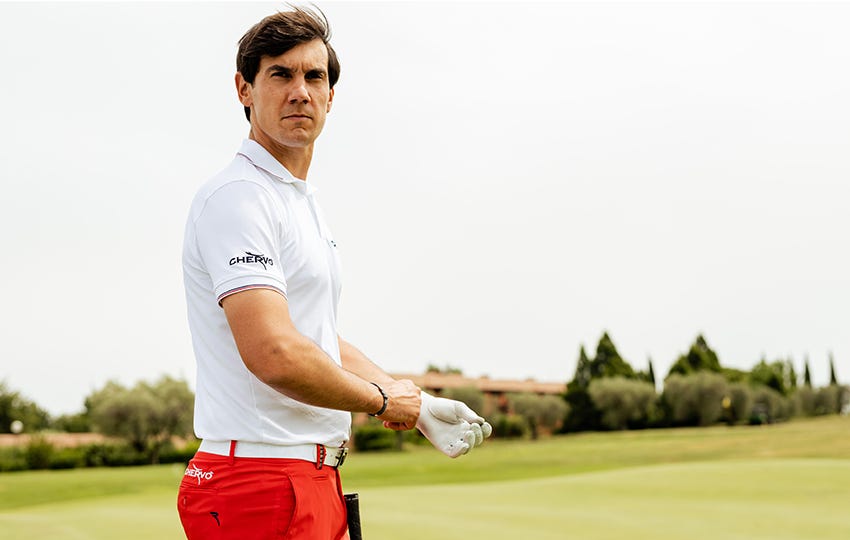 What has been the key to your success?
Assuming that a player has to be well-rounded to compete at high levels, I think that my natural ability played a key role. I had the devil-may-care attitude of a 17-year-old and the burning desire to get out there and play without too much pressure. For me, winning was easy. It came naturally to me and I played well instinctively and got amazing results.
Then what happened? Did too much pressure set in?
In actual fact, the pressure was always there, but I kept it at bay. As the years went by, I started to have technical problems and my confidence in my abilities was shaken. I started to feel vulnerable from a game perspective. I didn't have any points of reference any more and I found myself disoriented and at the mercy of what was happening to me.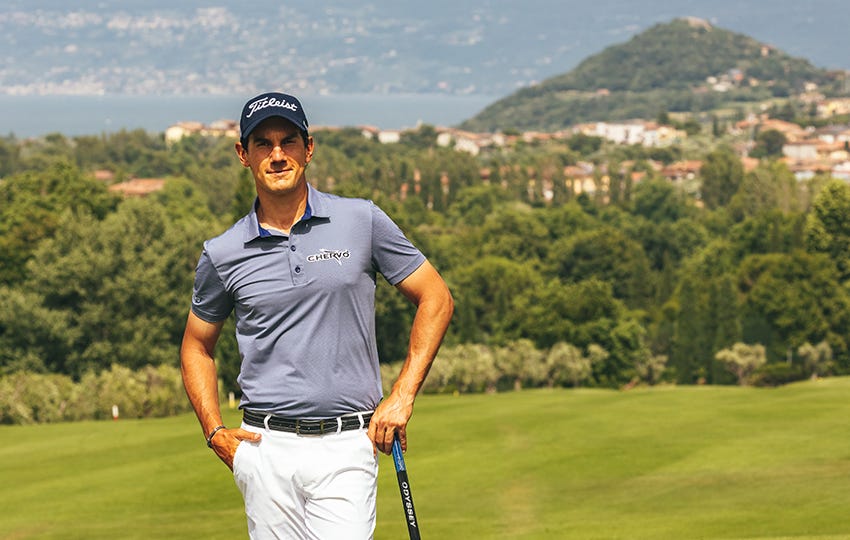 Did you make any bad choices that you wouldn't make again?
It's too hard to go back, but maybe I would have tried to factor in time to take a break and improve my technical foundations during the season, instead of nurturing the feelings that I would go on to transfer to the match. I should have done more structural work that could help me in the future; maybe my results would have lasted longer. Golf doesn't lie. There's no way out and, sooner or later, the bill always comes due. When you compete at a high level, it's normal to have tough times, but it's important to get back up, always.
How do you overcome these moments? Where do you find the strength to not throw away your life's work?
My passion for golf has always kept me going. It is the weapon that has kept me from falling into oblivion and never giving up on my end goal. This has to be combined with the awareness of having done certain things and thus being able to repeat them. I'm not even close to where I would like to be, but I have a clear goal. It is crucial to have a well-defined path and to believe wholeheartedly in what you are doing.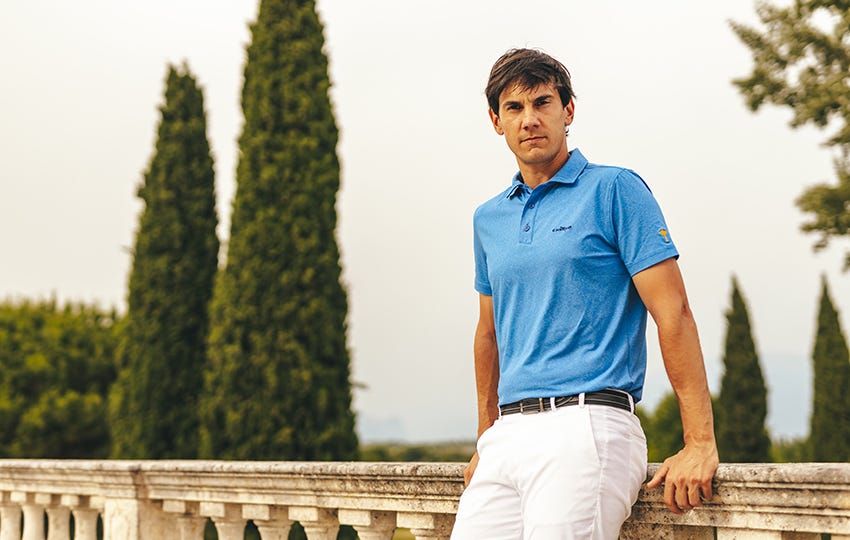 You've competed in various majors. Which one has stayed with you the most?
The 2009 Open Championship in Turnberry where I played alongside Tom Watson and Sergio Garcia. Those were four incredible days. I loved it all! That course has always been one of my favourites in the world. I played an extraordinary game, finishing 13th and Tom Watson came within a hair's breadth of victory. I was part of the standing ovation for Watson at the 18th hole. All these emotions will remain etched in my heart: much more than the final putt to end the tournament.
Not everyone knows that you challenged Seve Ballesteros to an approach competition when you were just 5 years old…
I was really young but I remember it very well: Seve is my idol, the player I've always looked up to for his tenacity, creativity and charisma. I also decided to always wear the same outfit in his honour: green trousers and a white polo-shirt, on the last day of the match.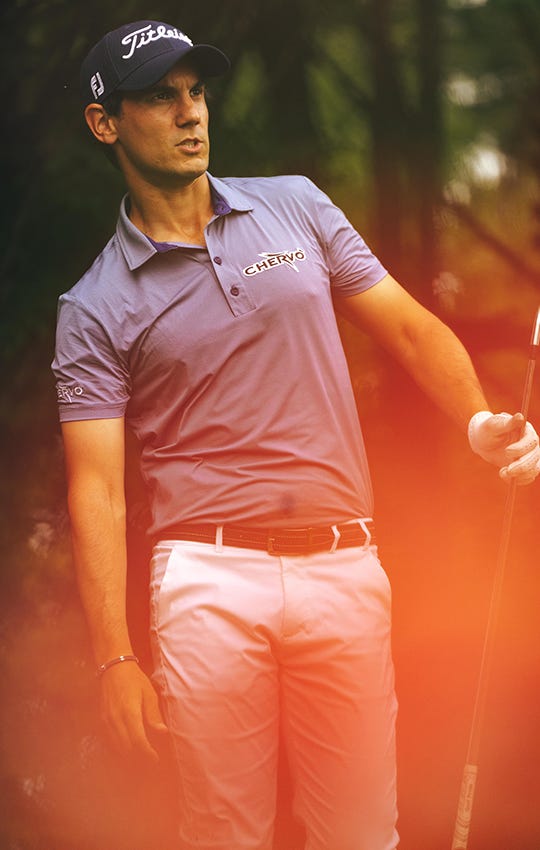 Let's move on to 2021. A new season and a new important partnership. What do you like most about Chervò?
I am really proud to have created a link with the brand. After several years spent with two foreign companies, it's wonderful and gratifying to take the essence of what it means to be Italian onto the golf course with me. And personally I feel particularly close to Chervò: territory and the elegant style that has always distinguished the brand's designs connect us. Elegance and technicality are exactly what Chervò offers and what I need. I hope that our shared values and mutual respect will take us to achieve great victories together.
How important was it to rely on new coaches? What are you working on the most?
Generating change is always important. I don't disown anything from the past, quite the contrary, but I needed something different. I always like to challenge myself and work consistently, both technically and mentally. I've entrusted my training to my new coach, James Rydiard, with whom I'm making changes to my movements and some parts of my swing. However, I think that the thing that is helping me the most is working with my mental coach Alessandra Averna. I've gotten my head in order. Now I give importance to the things that really matter and I've gotten rid of the infrastructure that did not allow me to blossom and left me weighed down by the wrong ideals and concepts.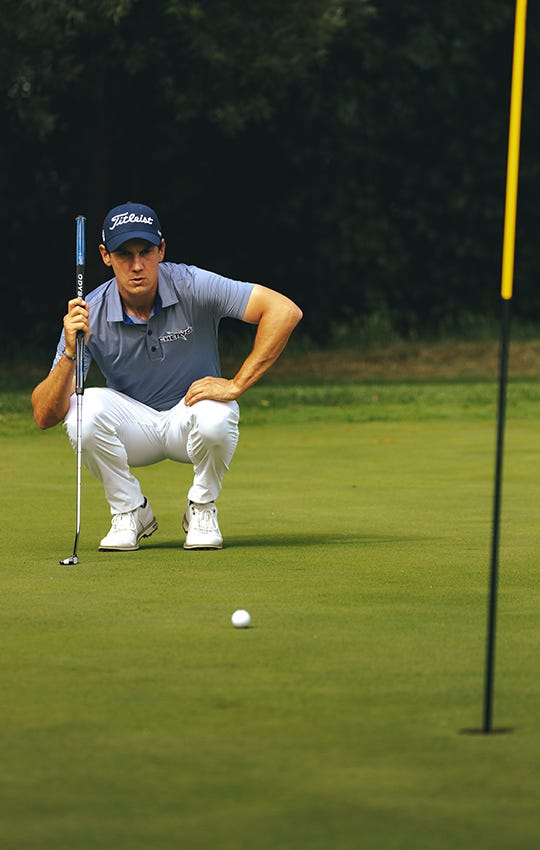 They're called the European minor circuits, but both the Alps and the Challenge have little to envy the European Tour. Did you expect this?
Yes, I expected it and it is amazing because it really breathes new life into the whole golf movement. The level is very high. If a player wins on the Challenge Tour, the next week they could compete for the title on the top European circuit. During the Challenge, you are in the game right up to the last putt. No one gives up and every single shot is crucial. I'm smiling as I say this because it's really a joy to compete with these guys.
What are your upcoming goals for the short and long term?
I want to continue at this pace, with a little more flash, and give all I've got in the season finale. I'm always extremely focused on continuing to improve. I came back down to earth hard, which is why I have to take off again calmly, without rushing, but with the desire to get back to high altitude. In other words, I need to fasten my seat belt and hit the green.
Today Matteo is... complete the sentence.
A guy who is happy with the path he is on. And obviously in hindsight I am also happy to have overcome - as well as to have experienced - more negative, stagnant years, because they have made me a more aware and mature person. When things go well, you don't pay too much attention. But when obstacles start to arise, that's when you start to gain some self awareness. These last few years have provided me with balance and determination and I will be able to enjoy all the little and great satisfactions that life will bring me all the more. In any case, the work is still ongoing and there is still a lot of road to travel, but I'm certain that the best is yet to come.