Chervò's taste, as well as the new Fall-Winter 2022-23 collection, condenses the history and goals of the brand celebrating its 40th anniversary this year into what can only be described as an exercise in style.
Chervò is a sportswear brand specialised in golf, doubtlessly: yet those who have been wearing our garments know perfectly well that what the collections wish to communicate goes beyond pure technical performance.
A way to express one's personality and fashion sense while playing and - why not? - also on all those occasions where smart athleisure is preferred to the formality of ready-to-wear.
The Fall-Winter 2022-23 collection thus aims to emphasise the concept of a sporty yet sophisticated lifestyle that intertwines aesthetics, innovation and technology, exploring colours and textures inspired by nature. Three themes run through the entire line, mainly relating to colour schemes and patterns: Golf Vibes, Marmorised Saxum and Snow Leopard.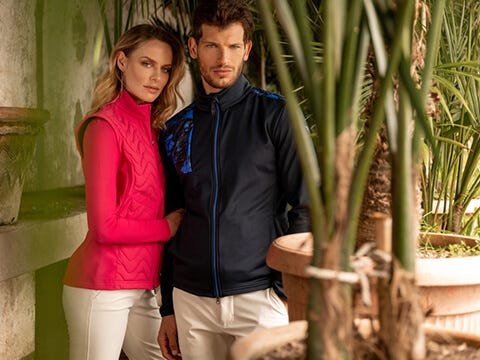 GOLF VIBES
Energy, colour and sport: Golf Vibes aspires to give today's golfer a range of colours and patterns that equals the technology of the premium textiles this sportier collection is made of.
Utmost motility, warmth and comfort are the primary ingredients behind the collection's ultimate goals: good vibes whilst playing, but also off the course. The Ladies' line is all about colour: pink takes centre role, with different nuances such as Cerise or Pompei Pink; touches of brightness and colour blocking that are paralleled with unique fabrics and knits, for the more daring dresser who wishes to match a sparkly pop of colour to a more classical nuance such as blue or vanilla.
A more delicate palette also finds its space in a more subdued line of garments, where neutral nuances find their space in iconic looks that guarantee high performance and sportier outfits. A similar idea is brought to the Men's collection, which takes the concept of Chic&Tech to a new level of lively sportiveness: light blue stands out as the prominent nuance of this modern colour scheme, while blue navy and dark grey embody the ever-lasting coolness of Chervò's sportswear.
SNOW LEOPARD
A fearless creature that delivers an idea of dynamism, innate elegance and resistance: Snow Leopard features warm garments whose nature-inspired colours space from black to white, from rosewood to grey, without shying away from the more daring custom animalier prints.
The core concept of chic – yet carefully engineered – attitude to dressing on and off the course is mixed with an inherent idea of uniqueness that comes from the very initial inspiration behind this line: the superior agility of a fierce animal, whose timeless regality resists the test of time and space. Touches of gold and fur textures are the ultimate emblems of luxury, while the sporty details, fabrics and performance-driven cuts are Chervò's own stamp of guarantee for the collection's practicality.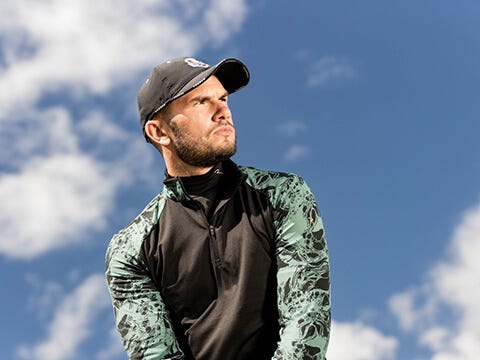 MARMORIZED SAXUM
Uncompromised resistance and strength are the key concepts behind Marmorized Saxum, an unexpectedly edgy collection that takes us to marble's durability and crystallised patterns. When stone (Saxum) transforms into marble (and thus becomes Marmorized), its mosaic of veins turns into the characteristic leitmotif of this metamorphosis. An irresistible pattern that perfectly matches the natural stone-like colours of this collection.
The challenges of winter and the research for utter comfort and movement led Chervò to design a collection that carries all the technical requirements of great golfing sportswear, as well as the many combinations of textiles, colours and patterns that draw inspiration from a strong, powerful natural element as marble is. Countless combinations are possible, with green and gold meeting the more understated hues of black and grey, to ensure full expression to any player's own style.
On the eve of a very important year for Italian and worldwide golf, Chervò also renews and expands the collection dedicated to the Ryder Cup, the eagerly awaited event which is set to take place in Rome in 2023. Chervò garments are therefore enriched with the Ryder Cup crest in the Fall-Winter line, turning them into iconic pieces for the most passionate sportsmen and women. Once again, Chervò's collection strives to push its limits forward when it comes to technicality and versatility, by giving its customers the chance to express themselves in a range of colour combinations and patterns that do not compromise on the Italian brand's performance and ever-higher standards.