The Chervò Man and Woman sport garments with optimum technical performances and unsuspecting fits both on and off the golf course
Inspired by Nature, the sunsets that tinge the snow-capped mountains and the mysterious charm of the Italian Alpine villages. The medieval village of Tenno - complete with its picturesque lake - was naturally the perfect backdrop for Chervò's new technicality and contemporary refinement-focused AW 2021-2022 collection. A line inspired by unspoilt nature, steeped in history: the sunsets that tinge the peaks of the snow-capped mountains and the mysterious charm yet timeless atmosphere of the Italian Alpine villages. This season, the Chervò Man and Woman sport garments with optimum technical performances and unsuspecting fits both on and off the golf course, for sporty yet elegant end results. The collection boasts 3 distinct moods: Active Sport (men and women), Mauve (women) and Mountain Sunset (men); all 3 of which have been designed to protect golfers from the natural elements, thanks to the Pro-Therm and Happy Goose technologies.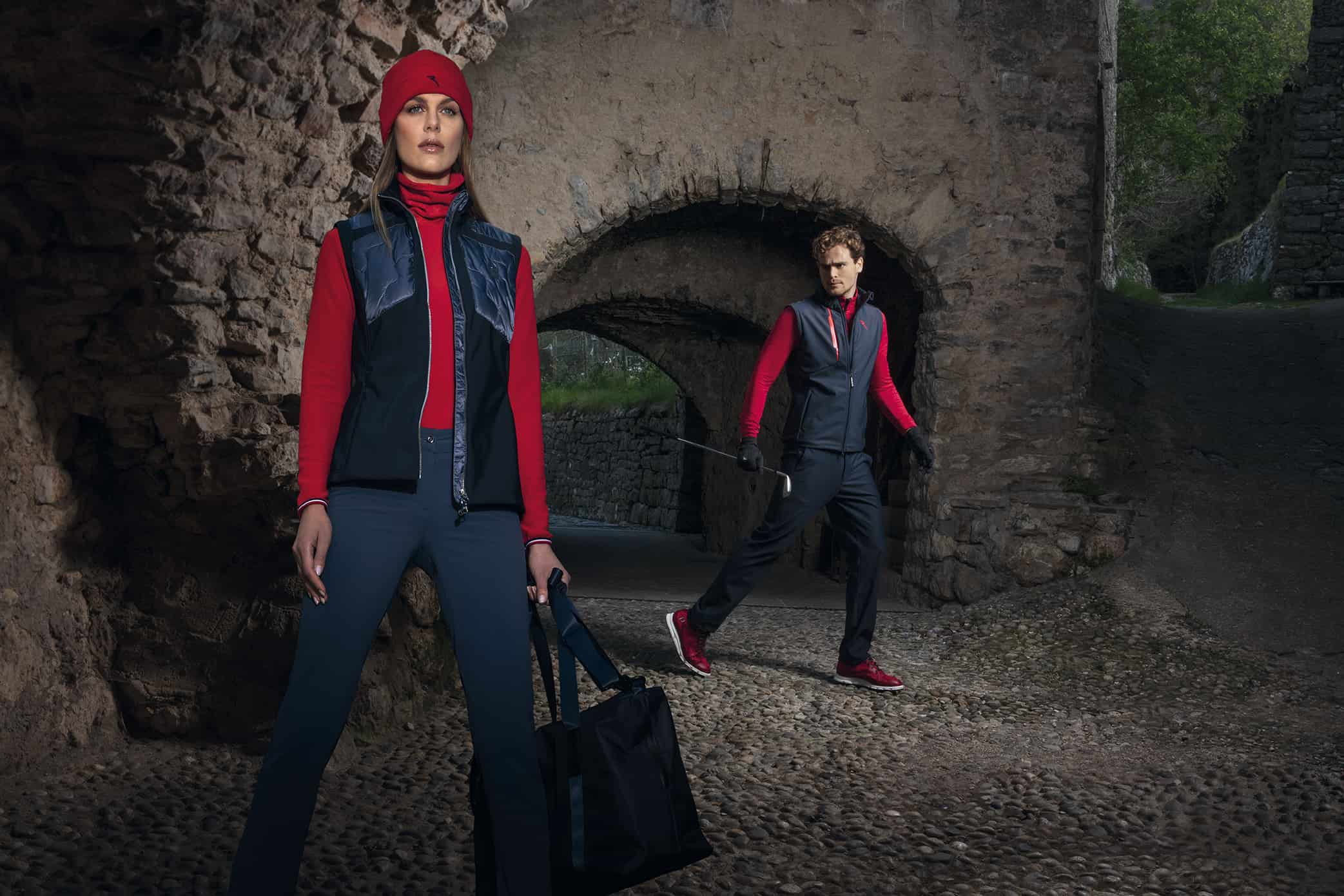 ACTIVE SPORT: where timeless blue and grey shades are overshadowed by a whole new kind of red
An action-dedicated men's and women's look with a hint of elegance for good measure. The timeless blue and "Brina" light grey shades combine with a bright, brilliant, vibrant and luminous new red hue. The result is a sophisticated yet clean sporty palette that plays with three-dimensional textures and bright contrasting details. The warm and technical SOFT-SHELL garments offer the best protection against the changing weather. They pair perfectly with bright polo-neck sweaters and unexpected red-hued bottoms.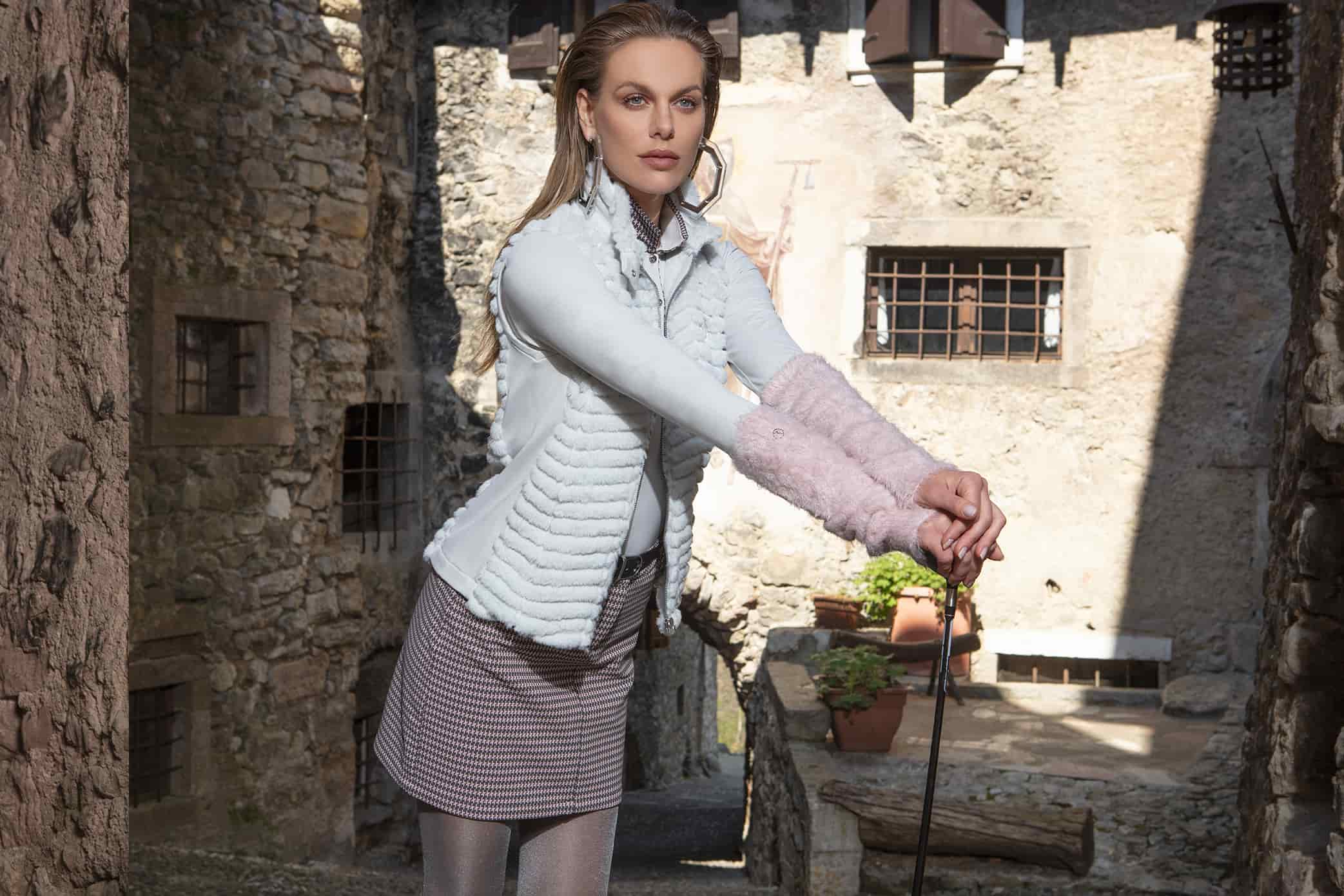 MAUVE: a Mauve and Frost-filled winter atmosphere
Elegant mauve shades meld effortlessly with more neutral shades - "Brina" light grey and "Sakè" beige - in this soft yet feminine winter-themed mood. The Chervò woman showcases a pink palette that when combined with classic black or sophisticated charcoal grey, acquires a sporty attitude for a new active on-and-off-the-green concept. Well-defined, original and refined patterns find pride of place, such as the laminated polygonal textures on the Hi-Tech jackets. Whilst other garments boast classic, timeless patterns - i.e. Glen plaid - that have been embellished with mauve-hued details and striped ribbons to bestow a sportier attitude.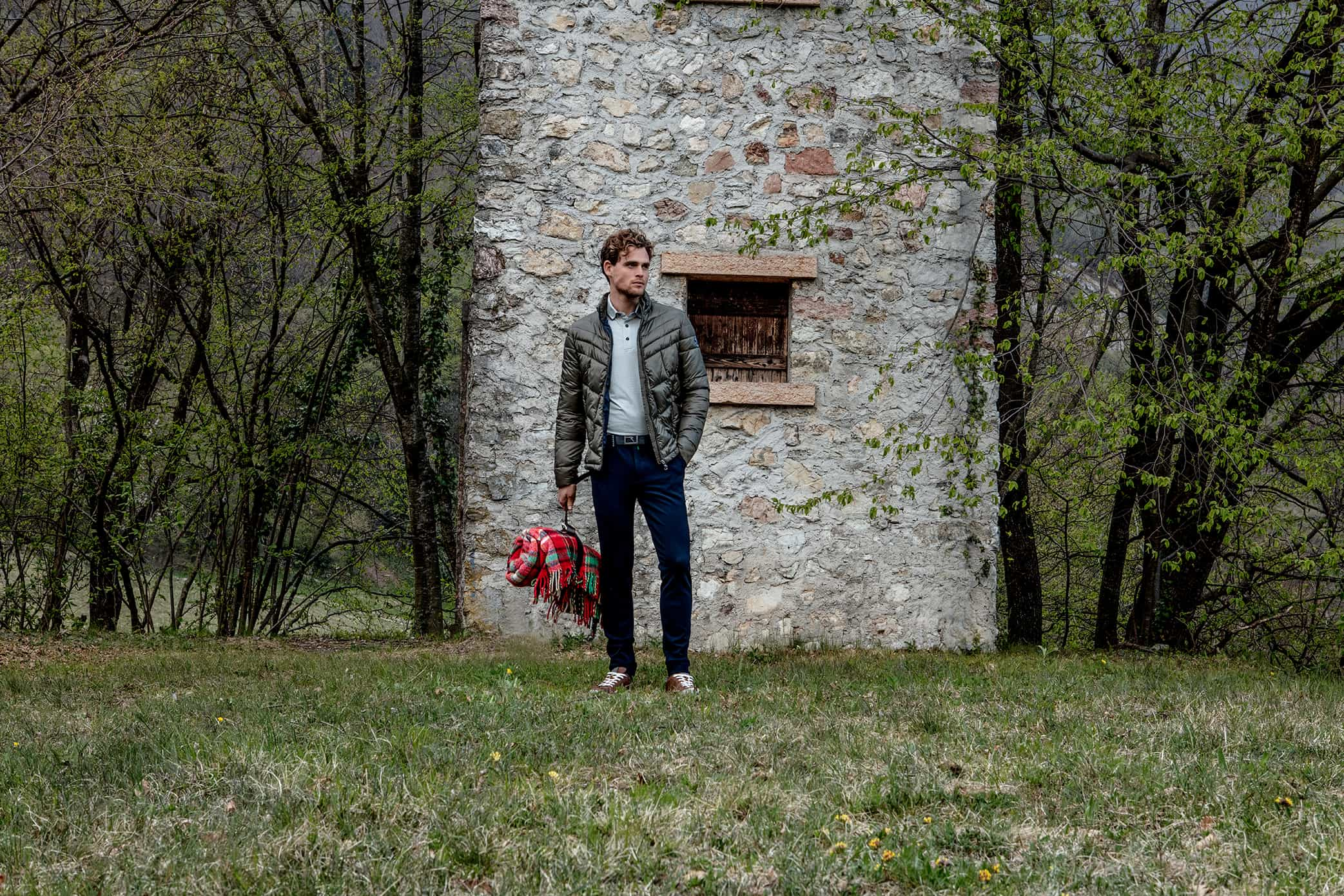 MOUNTAIN SUNSET: sports performance and total comfort... mountain high, valley low
This men's mood exudes sophistication with its warm "Ginepro" green, orange and "Colt" grey shades. The blue and light grey accents bestow a bolder look, thereby creating a casual yet refined style in equal proportions. The soft, tone-on-tone patterns feature orange and blue-hued contrasting details. The two-tone collars accentuate the polo shirts and convey a casual yet ultra-refined attitude. Geometric micropatterns are a must this season and team with even the most basic garments: a plus for gritty combinations as this mood brings sports performance to both the city and your free time, for total all-round comfort.
AW 2021-2022: technology and innovation
Chervò has been ever-committed to researching innovative materials in order to ensure the best technical performances, without compromising on comfort, elegance or style: both on the golf course and during your free time. Pro-Therm: apparel equipped with this technology will keep golfers warm without encumbering them. In fact, this ultra-thin, lightweight fabric boasts optimum thermal insulation properties. For maximum freedom of movement during sports with little volume. Happy Goose: 100% synthetic and eco-friendly. This material guarantees the same performance as goose down, requires very little care, boasts high thermal insulation properties and, above all, is cruelty free.
WATCH THE VIDEO OF THE NEW COLLECTION
Head over to our site now to check out the new men's and women's collection! Plus, don't forget to subscribe to our Chervò newsletter to be updated on our latest products and news.